Introduction
The Electrical and Electronic Engineering Technology (EEET) Programme was firstly established in 2007 pursuant to Decision No. 472/QĐ-BGD & DT signed on January 24, 2007 by MOET. This program is one of the strongest majors that supply the technical human resources in the fields of industrial electricity and electronics engineering to industrial zones in Dong Nai Province and neighboring areas. Till now, there have been more than 300 students graduated from the program and more than 90% of them have good jobs in the fields of electrical and electronic engineering. Most of them work in the industrial zones in Dong Nai Province and neighboring areas such as Ho Chi Minh City and Binh Duong Province. Some students took their master and doctoral degree programs and became Lecturers at some other Universities in Vietnam. The academic program and curricula are continuously developed with particular emphasis on developing students' skills to meet the fundamental requirements of the enterprises. Each graduate from the program is expected to have the ability and passion to work effectively and have good ethics.
Academic Staff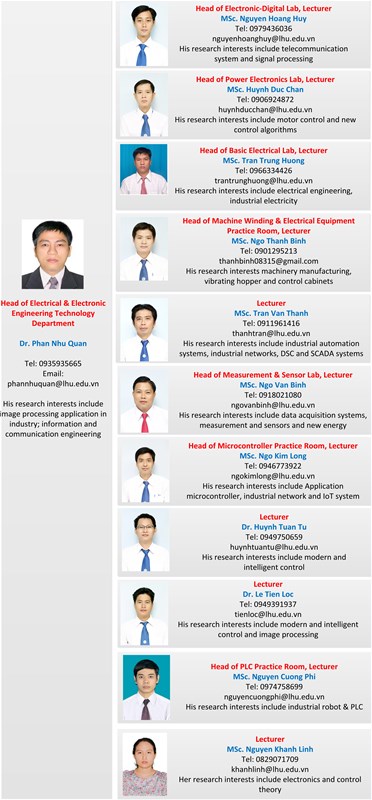 Missions
The EEET is to provide high quality education through excellence in teaching, research, and technology transfer in the fields of electrical and electronics engineering. Additionally, this programme to trains students to acquire strong practical expertise, outstanding communication and teamwork skills in order to prepare them for a successful professional career and to contribute to the needs of society.
Vision
Our vision is to become a national leader in educational of EEET by emphasizing on the research and practice-oriented teaching and training to dedicate high-quality engineering education, and to solve the practical problems in industries. We desire to become a leading unit in application deployment and technology transfer in Vietnam by 2030.
Programme requirements
In order to enroll in the program, students should be diligent, patient, hard-working, dynamic and careful so that they can successfully deal with meticulous matters. Moreover, they are required to have logical thinking, technical passion, especially in the fields of electrical and electronics engineering. In addition, they should show special interest in doing scientific research, actively keeping their knowledge up-to-date.
Training time
The training duration of the programme is 4.5 years. Students graduated from the programme are awarded the degree of "Bachelor of Electrical and Electronics Engineering Technology" (EEET). Bellow Figure brief presents the number of students graduated from the programme in the period between 2012 and 2016.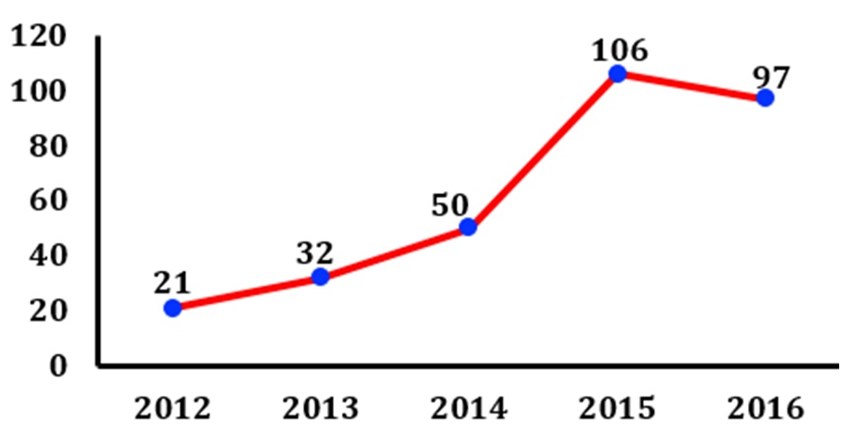 The number of students of EEET graduated from 2012-2016