Introduction
The Mechatronics Engineering programme was established in 1999 pursuant to Decision No. 188/QĐ-BGD&ĐT/ĐH signed on January 20, 1999 by the MOET. Since then, it has become a leading and pioneering educational programme in Dong Nai Province. There have been more than 560 students graduated with this major (as shown in Figure 2). The academic programme and curricula are continuously developed with particular emphasis on developing students' skills to meet the fundamental requirements of the industries. Each graduate is expected to have the ability and passion to work and effectively and have good ethics.
Missions
Mechatronics Engineering Technology is to provide high quality education through excellence in teaching, research, and technology transfer in the fields of mechatronics engineering. In addition, this programme aims to train students to have strong practical expertise, outstanding communication and teamwork skills in order to prepare them for a successful professional career and to contribute to the needs of the society.
Vision
Our vision is to become a national leadider in educating of Mechatronics Engineering by emphasizing the research and practice-oriented teaching and training to dedicate high-quality engineering education, and to effort to solve the practical problems in industries. It is expected to become a leading unit in application deployment and technology transfer in Vietnam by 2030.
For the above reasons, this programme is broad-based and specifically designed to integrate three major areas – electrical, electronic and mechanical engineering - into one stream. The assigned courses are delivered in a way that to provides students with theoretical and practical introduction to their future career in manufacturing, instrumentation, automation, robotics, bio-medical engineering or machine vision, etc. The curriculum is especially designed to provide students with flexibility in choosing or tailoring their career paths and endeavors, promote professional growth and prepare students for a variety of engineering careers, graduate studies, and continuing education.
Accordingly, the Programme has the following objectives:
PEO1: Be able to apply general and fundamental knowledge in mechanical, electronics, control, software, and computer engineering, and acquire a solid command of the newest technologies to work effectively and pursue continuing educational goals.
PEO2: Be able to analyze, design, operate, maintain and troubleshoot Mechatronics processes and systems.
PEO3: Be able to communicate effectively and demonstrate professional interaction individually and in group situations and could become an effective leader.
PEO4: Be able to undertake a variety of engineering careers related to all aspects of the industrial environment.
PEO5: Apply appropriate strategies to maintain professional, ethical, and social responsibilities and be aware of the impact of their works on the overall organization, society, and environment
The training duration of the programme is 4.5 years. Students graduated from the programme are entitled "Engineer of Mechanical Engineering" (EMET). Figure 2 briefly presents the number of students graduated from the programme in the period between 2006-2016.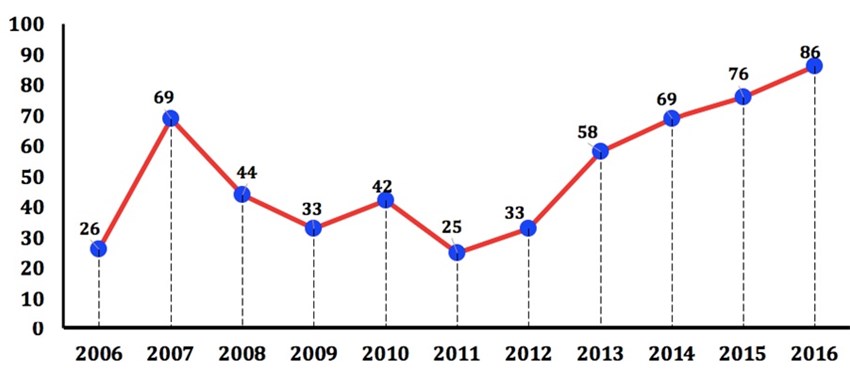 Fig. 2. The number of students of EMET graduated from 2006-2016