Along with the rapid socio-economic development and the increase in people's need for health care, the demand for pharmaceutical human resources across Vietnam has also been significantly increased. To meet the human resources for hospitals, companies, private health facilities, the Ministry of Health and the Ministry of Education and Training have a policy of allowing eligible universities to provide bachelor degree in pharmacy.
With a thorough preparation in terms of modern facilities and professional teaching staffs, LHU proposed its training programme named Pharmacist which was approved by the Ministry of Education and Training under Decision No. 5845/QD-BGDĐT December 28, 2012. The Decision allows LHU to enrol its first cohort in 2013.
Faculty of Pharmacy of LHU was established in 2013 with 5 departments and 8 laboratories chaired by PhD. Nguyen Tai Chi with the consultation from Assoc. Prof. Dr. Huynh Van Hoa. Despite being a young faculty, FOP received the special investment for its strategic development in terms of facilities and human resources. Thus, after 7 years of its establishment, FOP has completed its entire infrastructure and equipment to ensure the quality of training pharmacist in LHU.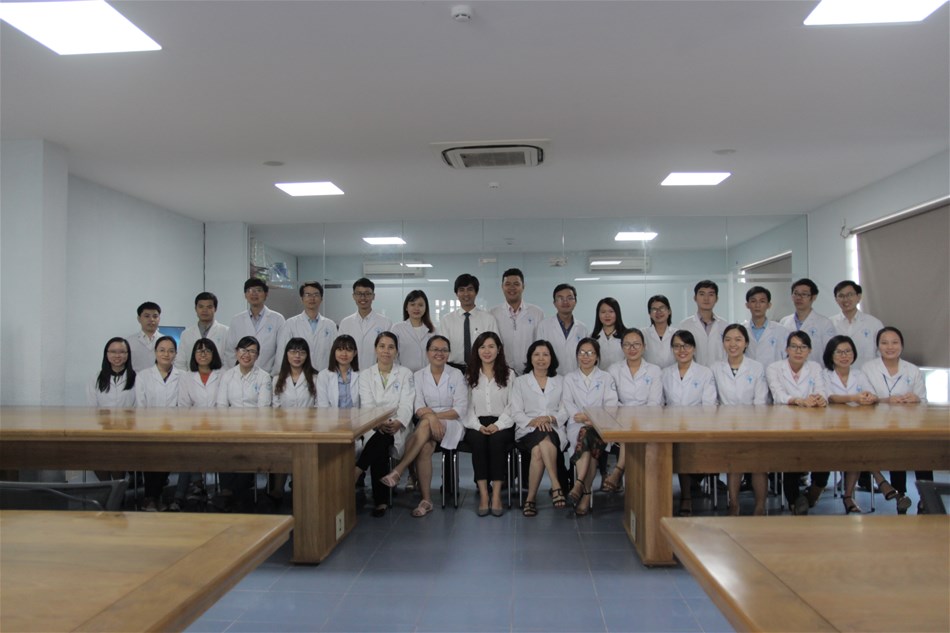 In 2020, FOP had 12 Departments with 20 modern laboratories invested. And its faculty members include 01 Professor, 04 Assoc. Prof., 12 doctors (Ph.D.), 45 Masters of Pharmacy (MPharm), 6 Pharmacists (among them, 5 staffs are taking graduate programs in Vietnam) and support staffs with 8 specialist and 13 techinicians. They are qualified and graduated from Ho Chi Minh City University of Medicine and Pharmacy, Hanoi National University of Medicine and Pharmacy, masters and pharmacists graduated from reputable universities in the country and abroad such as Russia, Japan, etc.
To ensure the quality of training, in addition to careful preparation of lecturers and advanced training programs, the Faculty currently has 13 theoretical lecture halls with a capacity of 100 to 200 students/hall and each hall is equipped with air conditioners and modern facilities for teaching and learning activities. The current laboratories well meet the regulations of the Ministry of Health to serve the needs of teaching and research activities of lecturers and students. Specifically, they are all well-ventilated, installed with air-conditioning systems, projectors, electric lights, incubators, optical meters, microscopes, autoclaves, incubators, electrophoresis machines, electronic scales, HPLC machines, etc. and drainage systems up to the standards required by the Ministry in order to satisfy the learning and teaching needs and safety. Most of the facilities are purchased from reputable brands in USA and European countries. In addition, the Faculty also has a medicinal plant garden with an area of ​​500m2, including plants prescribed by Ministry of Health in Decision No. 5486/QD-BYT of December 27, 2006.
Moreover, the Faculty has signed MOU with several medical units in Dong Nai and neighbouring provinces such as Ampharco U.S.A Pharmaceutical Joint Stock Company, Hasan DermaPharm Company, Dong Nai General Hospital, Thong Nhat Dong Nai General Hospital, 7B Military Hospital, Thu Duc Regional General Hospital, An Khang Pharmacy Retail and the system of pharmacies as a practical basis and graduation practice for students. The Faculty focuses on providing a student-centred learning environment and practical modules to help students improve their practical skills and apply theoretical knowledge to reality. Therefore, students spend most of their time in their laboratories. Through the process of learning and practicing in the laboratories of the Faculty, students gain their confidence which is important in their real working life after their graduation. The Faculty always encourages and creates favourable conditions for the lecturers and students to participate in scientific research. Hence, annually, lecturers of the Faculty always actively conduct scientific research, improve teaching methods and guide students to study and self-study.
Some images of our facilities and learning activities:
The mouse's tail- blood pressure monitor CODA® High Throughput System, USA
The cell filter Sonics, USA
The cold centrifuge Rotina 300R, Hettich - Germany
The Clinical Pharmacy Practice Room
Contact Information
Address: Huynh Van Nghe, Quarter 4, Buu Long ward, Bien Hoa City, Dong Nai Province
Office: Room H304
Tel: (+84)2513.953.131
Email: khoaduoc@lhu.edu.vn
Website: duoc.lhu.edu.vn