Located in Buu Long ward, Lac Hong University is favored by nature with nearby beautiful landscapes like Tran Bien Temple of Literature, Buu Long tourist area, Cu Lao quarter and so on
Tran Bien Literature Temple
Tran Bien Temple of Literature was built in the late 17th century in Buu Long Ward, Bien Hoa City, Dong Nai province. Like the temple of literature in Ha Noi, Tran Bien was a cultural educational center for students in the South.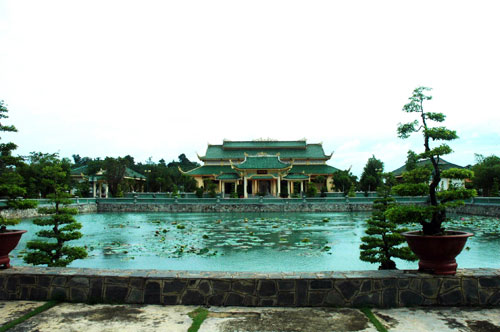 A view of Tran Bien Temple of Literature
Recently, Tran Bien Literature Temple was rebuilt on the base of the ancient Literature Temple in Buu Long ward, nearby Buu Long Cultural Park, about three kilometers from the center of Bien Hoa City. The temple is emerging as a peaceful and cool space, with curved domes and majestic rooms under the shade of green trees standing in harmony with the surroundings. The first sight in the temple is Van Mieu Mon (Mon temple of literature). From Van Mieu Mon, ones can see Tran Bien – Dong Nai traditional stele house, Khue Van Cac, Tinh Quang Lake, Three Entrance Gate (Cong Tam Quan in Vietnamese), the stele house of Confucius and the main temple of forefathers, respectively. There is here a big stele carved with the saying "Talent is the life-sustaining element of the nation". One side of the temple is Long An and Buu Long mountains, immense fields with flying herons, and some roofs and trees appearing in the far distance. The other side is the imposing Dong Nai River mingling with small river branches, making a charming poetic picture. Conversely, Thanh Long Bach Ho is a high and dry place converging with feng-shui. The work, built on an area of 20, 000 square meters makes an architectural style bearing cultural, educational, and heroic fighting traditions of the nation.
Tran Bien Temple of Literature is also the place to worship predecessors of Vietnam and South Vietnam, and to preserve and enter names of teams and individuals who have obtained considerable achievements, for National festivals and cultural activities.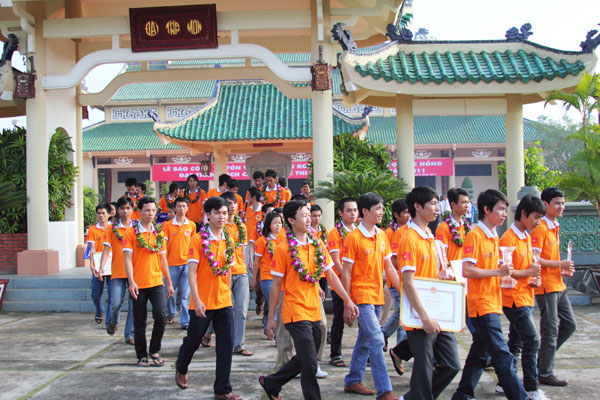 Lac Hong University's Robocon team attends the ceremony to report achievements held at Tran Bien Temple of Literature.
Coming here, students have opportunities to learn a great deal about the historical values and the tradition of encouraging and enjoying study of southerners. Besides, Tran Bien Literature Temple is an indispensable destination for studying groups, picnics, cultural activities, or simply a sightseeing and relaxing place for students.
Buu Long tourist area
For those wishing to enjoy the tranquility and mystery of nature, Buu Long tourist area could be an ideal place to relax.
Buu Long Park was built around an artificial reservoir formed after hundreds of years of stone exploitation by humans - Long An lake (Hidden Dragon Lake). The lake is tens of hectares in width. It can be said that Long An lake is like a zoomed-out painting on Ha Long Bay. Many high cliffs standing on clear water
surfaces create a
charming landscape which is in harmony with art architectures marked by religion through ages.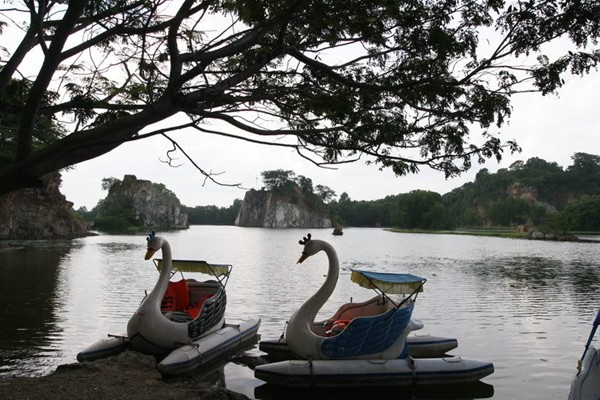 Coming to Buu Long, tourists can see a 35 meter high oasis in the middle of the lake which preserves hundreds of species of rare birds. Visitors can take a trip around the lake on a boat or visit giant stone dragons, mermaids, communal houses and many other interesting attractions.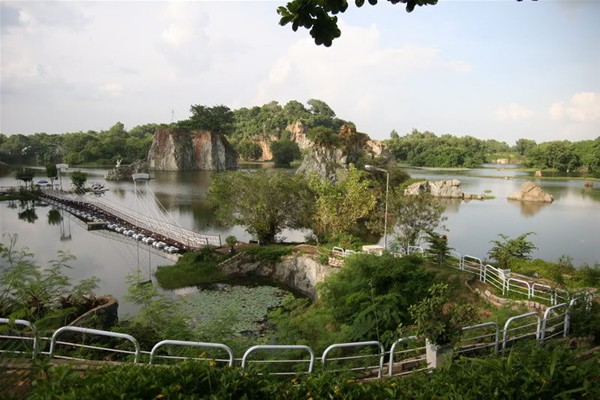 Besides the lake there are two low mountains where the well-known Buu Long pagoda appears behind a big snowball; where there are Thien Mau shrine and Long So Thac Dong cave like a frog's jaw covered by mysterious stalactites. When finishing the sightseeing, visitors can stop by Tan Trieu grapefruit village and visit a traditional professional village of rock sculpture rooted from seventeenth century sculpture at the mountain bottom.
Buu Long Park is located near the campuses of Lac Hong University, so its students who love nature can come here to enjoy the scenery, study or meet friends
on the
weekends. This is also a suitable place for camping and outdoor activities for young people.
Cu Lao quarter (Pho islet)
As a rich island rising in the middle of Dong Nai River, Cu Lao is like a bell. Cu Lao quarter, also called Nong Nai Dai Pho is now located in Hiep Hoa commune, Bien Hoa city, Dong Nai province covering 6.93 square kilometers. Known as "sacred land and eminent people", Cu Lao is a subject of archaeological researchers to study cultural, historical, and ecological values of Dong Nai.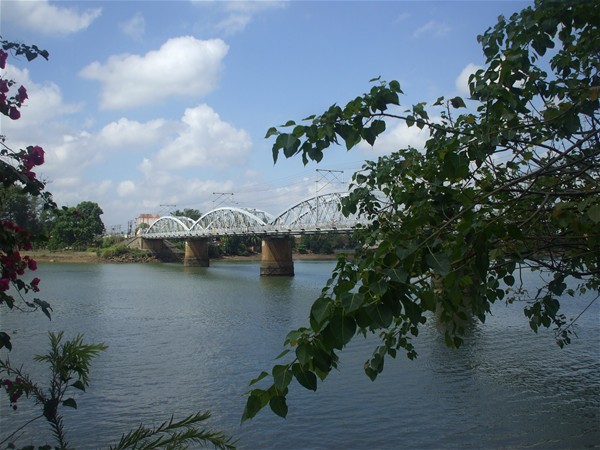 A view of Ghenh bridge - Cu Lao quarter
Cu Lao leads the density of pagodas in
Southeast
Vietnam. There are currently eleven communal houses, three national historical relics, five pagodas, three Buddhist temples, and three shrines located in Cu Lao quarter. Predecessor Nguyen Huu Canh chose Cu Lao quarter to establish an administrative capital as headquarters to widen the South.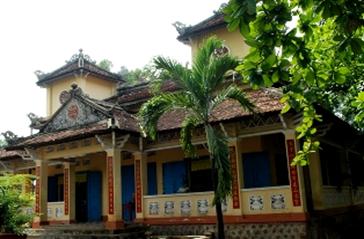 Dai Giac pagoda - Cu Lao quarter is recognized as the National Historical Relic.
Cu Lao with many belief establishments like Dai Giac pagoda, Nguyen Huu Canh temple, Ong pagoda, Thu Huong pagoda,… attracts a lot of visitors coming to take sightseeing, do research, and enjoy nature and art.
Giang Dien Waterfall Ecological Tourist Park
Located in Hoa Binh hamlet, Giang Dien commune, Trang Bom district, Dong Nai province, 22 km from Bien Hoa city, Giang Dien Waterfall Tourist Area, covering 67ha, has become an ideal destination for young people and families at weekends or on holidays.
With its valley, hills, forests, waterfalls, varieties of strange flowers blooming all the year round, fresh climate and wild nature, Giang Dien Waterfall Ecological Tourist Park is often referred to as Da Lat in the East. Coming to Giang Dien Waterfall , tourists can take sightseeing by walking on stone-paved roads and trails full of many species of flowers and plantations; enjoy private moments under the shadow of trees or on the smooth green grass cover; visit entertainment areas, flower gardens, pools, etc. Wallowing under cool waterfalls brings tourists relaxing moments and wonderful feelings.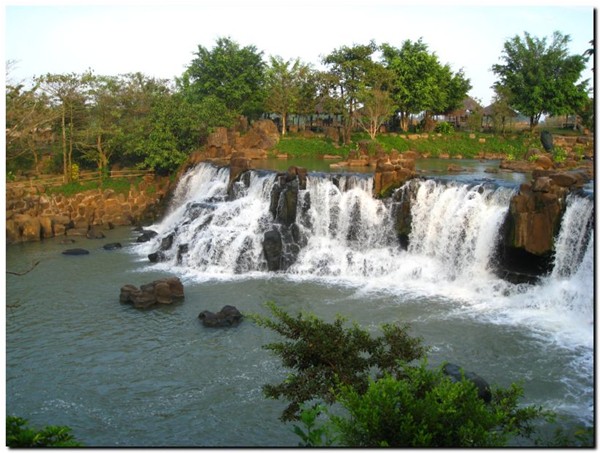 Giang Dien's restaurants, kiosks, stalls, services, sentry-boxes and flower gardens were harmoniously designed and constructed in the middle of ecological scenery. There are various kinds of travel services suitable for all kind of tourists like stream bath & waterfall bath, double bike, sightseeing taxi or train, food & beverage, camping rental, fishing, camp-fire, folk games, children plays and team playing, karaoke, billiard, roller-skate, singing club, wedding & ceremony celebration, funny farm visiting, etc, especially bungalows and restaurants with all conveniences.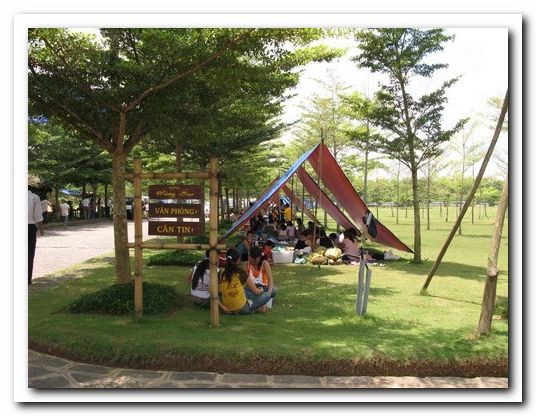 With its beauty and convenient services, Giang Dien Park is an ideal choice for young people who like to discover nature.
Tan Trieu pomelo village
Tan Trieu pomelo village belongs to Tan Binh commune, Vinh Cuu district, Dong Nai province, 3km from Bien Hoa city. The village remains a peaceful and quiet place with fruitful pomelo gardens and delicate smell.
Tan Trieu is the oldest village in Dong Nai, lying along the riverside, covered by canals, making an isolated isle with an only road to the village. Tourists can come to Tan Trieu by boat or by individual vehicle (car, motorbike) through National way 24. Local people will guide them to visit the village, enjoy specialities like pomelos, pomelo salad (goi buoi) and pomelo wine. Every year, Tan Trieu welcomes domestic and foreign tourists to the village to enjoy the beauty and savor the taste of the pomelos. Tan Trieu pomelo is not only famous in the locality, but also nationwide and overseas.
Tan Trieu pomelo has many other species such as Thanh pomelo, Xiem pomelo, guava pomelo, sour pomelo, yellow leaf sweet pomelo, and Duong Num pomelo, He pomelo, Long pomelo, Mrs. Van pomelo and so forth. Each kind of pomelo has its special taste. For example, the Thanh pomelo is juicy and fruitful. Each season, a tree can produce 400- 500 fruits. The Xiem and Long have small size but sweet taste. The most tasty pomelos are Duong la cam and Duong num. The Oi pomelo has a small size but a special feature – it can be kept for more than a half of a year but remains sweet.
In Tan Trieu, many people know Mr. Nam Hue (known as Mr. Nam), the owner of pomelo village eco-tourism area. He is the first one to open this type of ecotourism in a quiet village along the bank of Dong Nai river with specialities from pomelos and rural dishes. There are many kinds of pomelos in Tan Trieu. All of them taste delicious due to the rich soil along the riverside. Mr. Nam chooses Duong Da Xanh pomelo to make goi buoi. Anyone who once enjoyed goi buoi will easily recognize Tan Trieu goi buoi because of its special taste and recipe. Goi buoi in other places is mixed with dried cuttlefish that is torn to pieces while Tan Trieu goi buoi is mixed with freshwater crayfish (tom song). When enjoying goi buoi, visitors will experience a little bit sour, mildly sweet tastes mingled with sweetness of crayfish, nutty flavor of peanuts, hot taste of chili and savor of rau thom. In addition, a piece of crispy girdle cake covered with red shrimps will make the goi buoi tastier. Besides goi buoi, tourists can buy pomelo juice, pomelo wine or Duong Da Xanh pomelo as gifts for their relatives. One special feature of Duong Da Xanh pomelo is that it can be kept for a long time but still tastes good.
Cultivating pomelos is the traditional career of the Tan Trieu people. Tan Trieu pomelo gardens have made a huge improvement to the quality of life of local people as well as being an attractive ecotourism site for tourists. Tan Trieu pomelo has occupied the domestic market and been exported to some countries in the world such as the Netherlands, Germany,...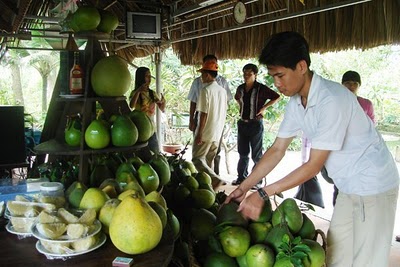 Tan Trieu pomelo village