LHU considers scientific and technological research as key activities to raise the quality of the university. Lecturers' and students' research topics are oriented to solve practical problems.
In order to provide society with high qualified human resources and to promote students' potentialities, LHU offers its students opportunities to take part in research activities. Students who get academic results from 7 and above have to carry out research. Research work is required to have practical applications. Particularly, theoretical research needs to be published in journal of science. Each year, the university invests about VND 300 – 400 million in research activities at school level. As a result, scientific research movement of the university has widely developed and increased in quality. The university has the policy to encourage students to take part in research works such as awarding VND 1 million for articles issued in domestic journal of science, VND 3 million for ones issued in foreign journal of science and they are progressive.
Research activity of LHU is continued from year to year and its quality as well as application has been increased. From 2003 – 2012 LHU has organized 19 and 9 science research conferences for students and lecturers, respectively. Students' science research conference has 2, 621 topics at faculty level, 657 topics at school level. Lecturers' conference includes 375 at faculty level and 309 at school level. Thanks to a strongly developed science research movement, the university has been very successful in learning activities such as clubs, Robocon contests, business-doing contests,… Particularly, LHU becomes the champion of Robocon Vietnam for three successive years (2010, 2011 and 2012) and it takes second place in the Asia-Pacific Robocon contest for two times and third prize for one time.
Teachers' research topics are sponsored by Dong Nai province People's Committee through Department of Science and Technology. In 2003 the two projects worth VND 1 billion and 440 million (the Department of Science and Technology sponsored 480 million) were checked and taken over and handed over. In 2004, the two projects worth VND 2 billion and 100 million (the Department of Science and Technology sponsored 700 million) were checked and taken over. Especially, the topic on glass cleaning robot for high buildings was bought by Thai Son Military Company. Then LHU and the company researched and conducted industrial production.
In 2006 – 2008, the university successfully transferred e-office, student record management and mark management software to Central II University of Sports, Ba Ria Vung Tau University, Hong Bang University. It also transferred e-office to Bien Hoa Packaging Company and Dong Nai Tobaco Company, purchasing management software to duty-free supermarkets in Moc Bai, Lao Bao, Tinh Bien, handed over E-Order software to Coi Nguon Company, Coi Rieng Coffee, Riverside restaurant, Buncamita franchises, Resort Cham Villas in Binh Thuan province. The university handed over e-library and e-library equipment to Department of Science and Technology and Le Quy Don High School in Quang Tri province, Tan Hiep Phat Co. Ltd in Binh Duong province. The software Outpatient Medical Treatment and some equipment were also transferred to Dong Nai Polyclinic Hospital.
In addition to transferring technology to above units, the university has studied and transferred successfully automatic component grills arranging and checking system
to Nectokin company (Japan); installed and transferred automatic power control cabinet to Plus
Industrial Co., Ltd. Vietnam ( Bien Hoa Industrial Zone 2); automatic steel bending machine
transferred to the private business Hoc Thuan Hoa, concrete mould lubricating machine to Chau
Thoi Concrete Corporation and so on. These devices perform well and receive high appreciation
of users.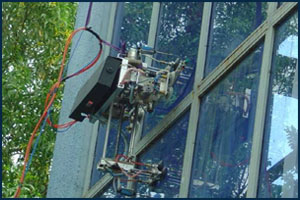 Glass cleaning robot
LHU also promotes and expands relationship with international educational organizations with various forms such as academics exchange, associate training programs, apprenticeship, short-term exchange, dual program, postgraduate program so as to enhance the quality of students and teachers.
Until now, the University has negotiated and signed agreements with other universities to assign students to do internship, take MA and PhD courses and two-stage training (2 years at home and 2 years overseas) and degrees will be granted by:
-National Kaohsiung First University of Science and Technology (Taiwan)
-National Kaohsiung University of Applied Sciences (Taiwan)
-Chen Kung University (Taiwan)
-Youngsan University (Republic of Korea)
-Asia University (Republic of Korea)
-Chosun University (Republic of Korea)
-Ngo Chau Quang Tay University (Peoples' Republic of China)
-Institute Fur Internationale Bildungskooperation an der Hoschule Merseburg e.v. University of Applied Sciences (Germany)
-Dong Eui University (Republic of Korea)