As a technical innovation contest for students and launched by NHK Japan, Robocon has been promoted by the Asia Broadcasting Union (ABU) among its members. So far, 17 Robocon contests have been held and this year, Vietnam is honored to be the host of ABU Robocon 2018. This is also the third time that Vietnam has hosted the Robot Contest.
The theme of ABU Robocon 2018 is based on a popular Vietnamese folk game called "Shuttlecock Throwing". Through the theme, the organizers expect innovative and unique designs of the shuttlecocks.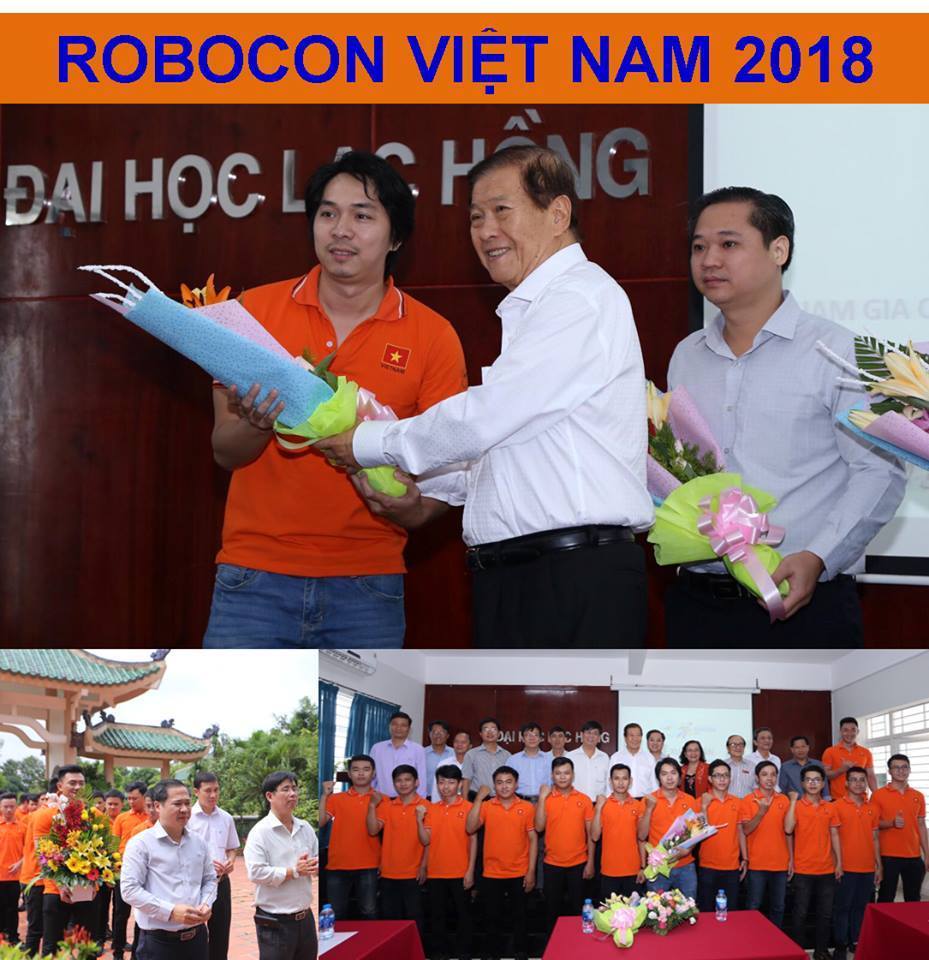 Fig 1. The Vietnam team
Deputy General Director of Vietnam Television and Head of Organization Board of Robocon Vietnam 2018 Dinh Dac Vinh said: "As a member of the ABU and also the organizer of this year competition, Vietnam Television has been working hard over the last year to prepare for it.
Robocon is a creative environment for students who are passionate about technology, so from the outset, VTV has been very serious in organizing and running the competitions. Together with the organizers from the Asia Pacific Broadcasting Union and Television Association, VTV expects ABU Robocon 2018 to be a great success, an impressive Robocon for international friends. "
As a co-organizer of ABU Robocon Competition 2018, Ninh Binh Provincial People's Committee and VTV established local Organizing Committee which includes relevant departments. In addition to the competition venue, the hotel accommodations as required by the Organizing Committee and security work, environmental sanitation, food safety and other logistics requirements are ready. for the competition.
At ABU Robocon 2018, 19 teams have been randomly divided into 7 pools (5 pools consisting of 3 teams per pool and 2 pools consisting of 2 teams per pool). In addition to competing to win the ABU Robocon 2018, the teams are also engaged in student exchange activities and visit the world natural heritage Trang An, one of the places which should not be missed when coming to Ninh Binh.
OPPO Science and Technology is the main sponsor for the Asia Robocon Vietnam 2018 and is the national sponsor for the ABU Robocon 2018 competition.
The ABU Robocon 2018 matches will kick start on Sunday, August 26
- The opening ceremony and the qualifying matches will be broadcast live from 12h00 to 15h10 on VTV2.
- The finals and awarding ceremony will be broadcast live from 15:30 - 17:40 on VTV1 and VTV2.
In addition, viewers can watch live matches at VTV News ( vtv.vn ) or watch livestream on VTV2 fanpage.
More information about the contest can be found at http://robocon2018.vtv.vn and http://aburobocon2018.vtv.vn