The club model plays an important part in student life at campus, enabling them to practice what they have learned and gain more new knowledge and skills. This will certainly help the students become well prepared for life at any time. Therefore, LHU offers all of the students a variety of useful clubs. They are free to join any club that is suitable for their interest and aptitude.
1. English speaking club (ESC)
With the aim of creating an academic and healthful playground for all students after their stressful study and offering them chances to use English language in communicative activities, the ESC is held by major to non-major departments.
Coming to the ESC, in addition to receiving useful knowledge and improving English speaking competence, the participants have chances to get material and spiritual gifts made by the organizers.
For convenience, the club holds meetings for its members every two weeks. The club administration board is in charge of the club topics which are very interesting and close to student lives. The topics are also around language skills, daily activities, holidays, current events,…Those topics will be distributed to their members on their gathering. During the meeting, members discuss certain topics. This will help a lot on both their English speaking skill and confidence in communication with foreigners. The English speaking club has appealed to a large number of students from different departments in LHU. In brief, the ESC is open to all students, no respecter of levels. You will be surprised how much better your English is after a few months joining the club.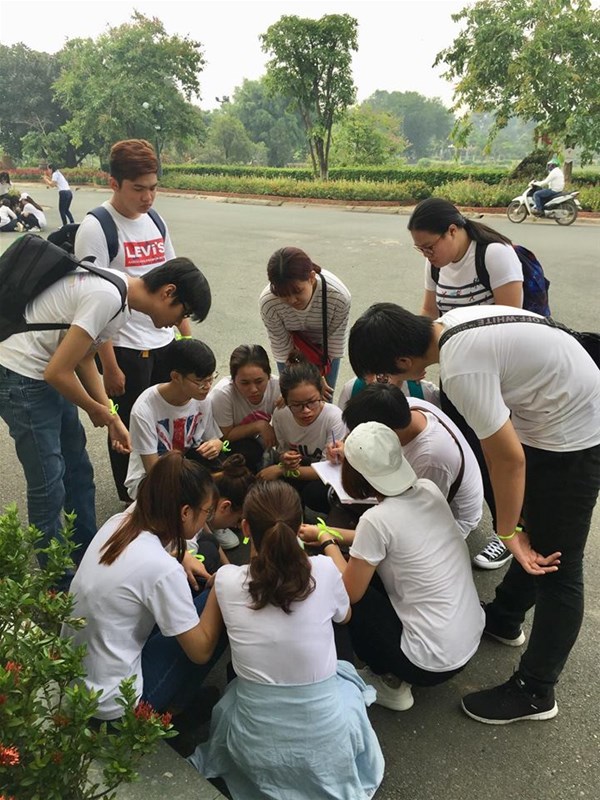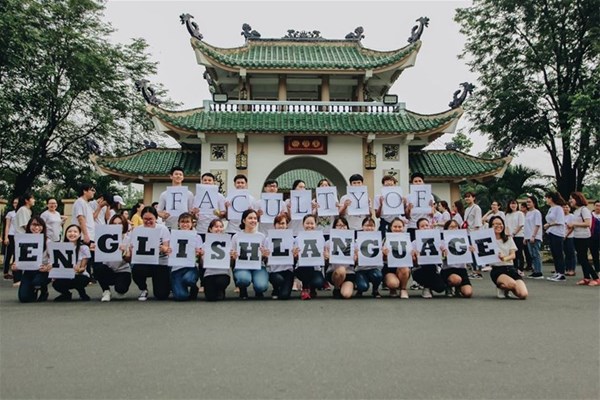 The ESC always attracts the great participation of students at all levels

2. Oriental Studies clubs (OSC)
OSC includes three main clubs. They are Japanese, Korean and Chinese clubs. Like English speaking clubs, those are established to meet the demand of students who want to cultivate their language competence. The administration boards take charge in composing the topic and hand out that topic to its members. Presently, a number of students registering to become members of the club are increasing rapidly.
* Korean speaking club
The Korean speaking club was established in 2008 with the focus on an intensive Korean learning environment. The purpose of the club is to assist students to enhance Korean speaking ability and offer them opportunities to learn about Korean culture via topics about food, daily activities, traditional holidays, folk games, ... Joining the club, the participants have chances to show their language skills and take part in funny games with Korean experts and Koica organization's staff and receive the great support from the teachers of Korean Studies.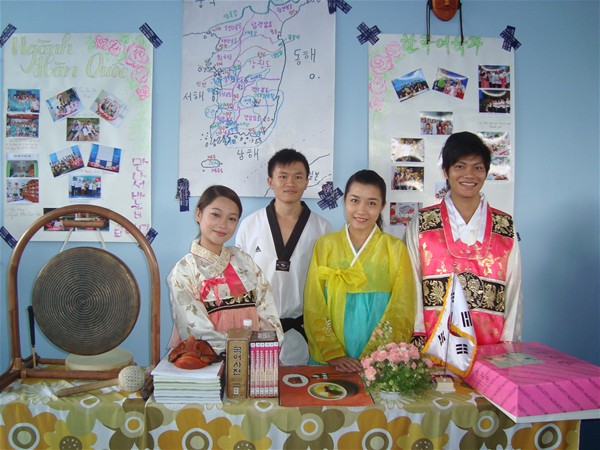 The Korean speaking club.
* Chinese speaking club
The Chinese speaking club is a chance for students majoring in Chinese Studies to meet, exchange with each other. This is also the place where they can practice Chinese, share experience and learning methods as well as understand more about the culture of the two countries, Vietnam- China. Joining the club, the participants have opportunities to use Chinese with native speakers as teaching experts from China. The Chinese speaking club always attracts the crowded participation of students thanks to a variety of interesting activities designed and created by the organizers. Besides improving Chinese speaking skill, members of the club can join in funny games and get meaningful presents from the organizing board.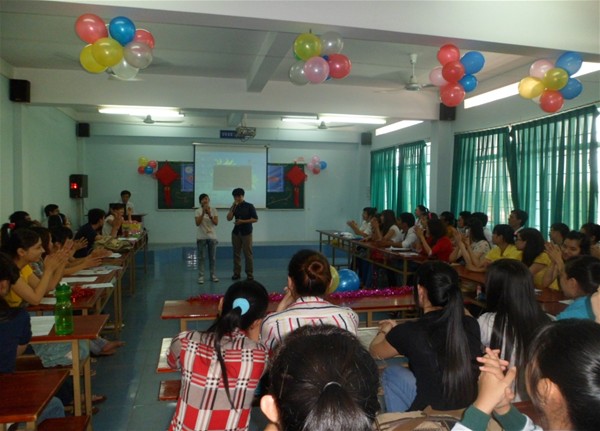 The Chinese speaking club always draws a great attendance of students.
* Japanese speaking club
The Japanese speaking club was established in 2008.
Purposes:
- Creating a dynamic and professional environment, concentrating on Japanese knowledge, culture and soft skills.
- Offering students chances to use the language and exchange with lecturers and Japanese guests.
- Improving students' Japanese speaking competence.
- Providing students with opportunities to show themselves and take part in exchange activities.
Contents:
The Japanese speaking club takes place extracurricular activities, games playing, songs singing, topic discussion, group working,...
Results:
Until now, the Japanese speaking club has become a familiar playground, appealing the interest of students at all levels.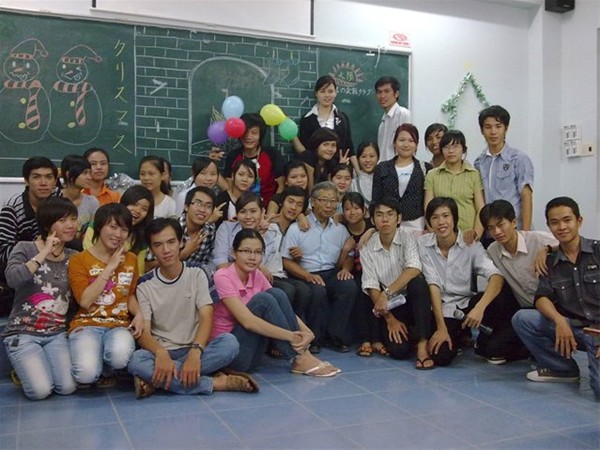 3. Vietnam Studies club
Purposes:
- Creating a useful playground, enabling students to practice the skills of tour guides and learn more new knowledge.
- Assisting the students to be more confident and dynamic.
- Offering the students funny activities to reduce stress after their hard study.
Contents:
The club holds the contest of "Learning to be a tour guide", games like solving situations, riddles and word puzzles,... The University regularly offers the members tours to companies, tourist attraction spots, museums, historical sites,... in order to help students contact reality.
Results:
The Vietnam Studies club, despite a newly established one, has become a top destination and increasingly attracted more students.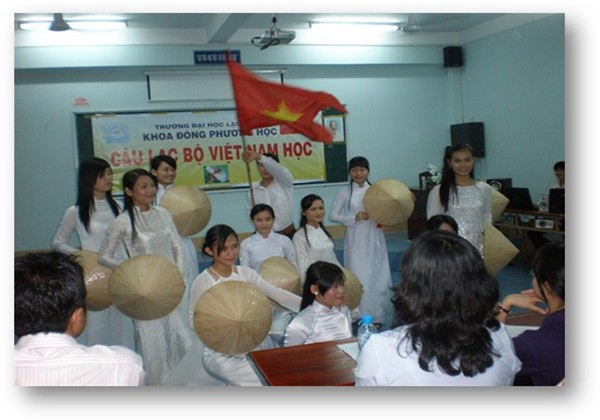 4. TCM club
TCM - a revolutionary songs propagandizing club, is a new one to students, launched from 2012. However, it has drawn a great attendance of a big number of students. This is a healthy playground for those who love arts and political songs. Joining the club, the students, besides freely showing their passion after stressful study, have chances to enjoy immortal songs of the nation and share precious experience with each other. Also, they will be instructed skills such as selecting songs, parts, vocal techniques as well as stage experience,....
For convenience, the club holds meetings for its members once a month with the topics concerning commemorative holidays, life and familiar things close to students. The themes of the meetings turn around revolutionary songs, difficult but heroic times of our elders. Magnanimous and glorious moments of our soldiers will be now reappeared clearly via each dancing item, the singing voice of the young student generation of LHU.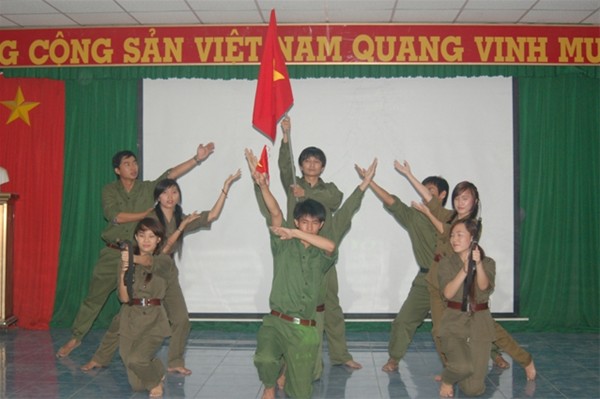 5. LHU martial arts club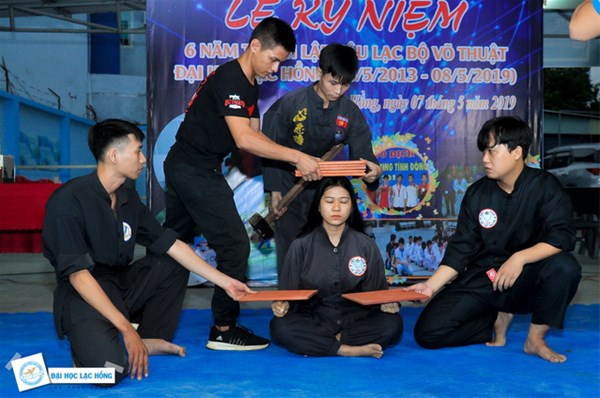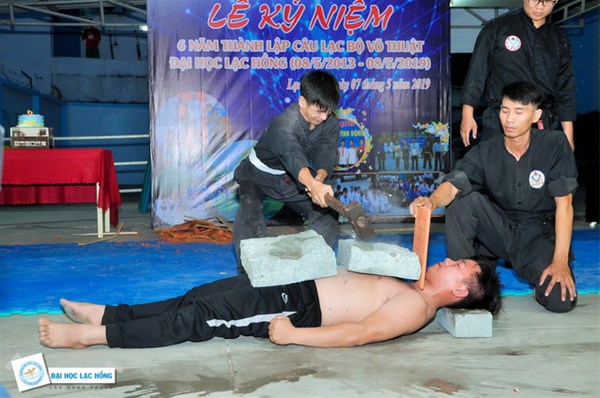 Founded in May 8, 2013, the LHU martial arts club has the aim of responding to the physical exercise movement, the movement of learning and following Ho Chi Minh's moral example and creating a healthy playground for students to improve their health and develop personal comprehension. In addition to enthusiastic participation of members, the club specially receives great support and care from the University Management Board.
The martial arts club includes 3 subjects: Traditional martial arts, Taekwondo and Vovinam
Club time and Location: Tuesday, Thursday and Saturday
- Traditional martial arts: 6:00 p.m - 8:00 p.m - Campus 3 - LHU - In charge: Nguyen Van Minh ((+84) 939 683.186)
- Taekwondo: 5:30 - 7:30 p.m - Physical Education Center - In charge: Deo Dang Khoa ((+84) 908 545.289)
- Vovinam: 6:00 - 8:00 p.m - Campus 3 - LHU - In charge: Le Truong Chinh ((+84) 817 866.577)
6. MOS club (Microsoft Office Specialist)
The MOS club is for students of LHU who are gifted and passionate about office informatic.
Purposes:
- Enhancing the teaching, training and application of office informatics according to international standards for students
- Creating a useful playground to help students practice, test and evaluate their own office computer skills
- Encouraging and fostering good students of Informatics to participate in national and international competitions
Students participating in the club choose 1 of 3 subjects to study and research including:
- Microsoft Word
- Microsoft Excel
- Microsoft PowerPoint
How to register: Contact the Center of Foreign Language and Informatics
Address: No.5 Huynh Van Nghe, Buu Long ward, Bien Hoa city, Dong Nai province
Tel: (+84)251 3954995
Website: http://nnth.lhu.edu.vn/