Faculty of Civil Engineering raises a movement to donate books to specialized bookcases for the purpose of raising awareness, creating a connection between books, lecturers and students. In addition, encouraging the development of reading culture in the faculty and student community, contributing to the study of students at the Faculty of Science and Technology.
On the occasion of Vietnam Book Day on April 21, 2022, Faculty of Civil Engineering launched a movement to donate books to specialized bookcases at the Self-study area for students at Campus 6, Lac Hong University.
- Time: April 21 to April 28, 2022
Subject to all individuals, students have books and wish to donate them back to the Faculty.
If the Teachers and individuals wishing to donate, please contact:
- Mr. Thanh 0976.478.937, received if brought to Facility 6.
- Mr. Nguyen: 0325.989.469 to receive books at the place.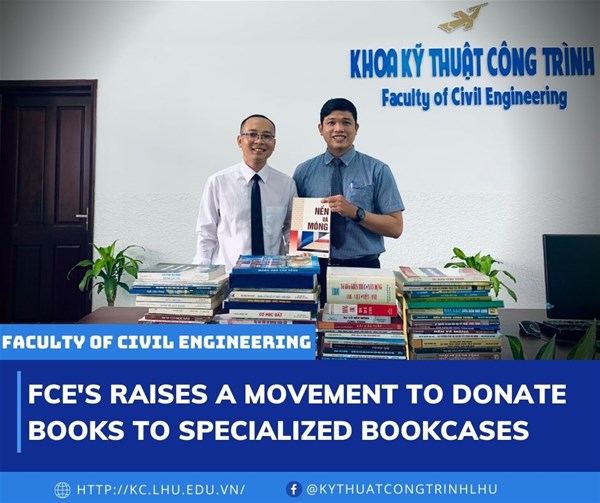 FACULTY OF CIVIL ENGINEERING - CORE VALUES
1.Special elite teaching staff have over ten-year experience in teaching and own construction business;
2. Special training program - project-based learning includes three pillars: 40% of theory, 30% of practice at workshop and laboratory, and 30% of practice on site;
3. Modern facilities meet the training program based on three pillars, with a basically complete system of practical workshops and laboratory.