LHU on August 18 received the result report from the ASEAN University Network Quality Assurance (AUN-QA) Secretariat and Assessors for the assessment of four programs which took place in June 2021. Accordingly, the four more tertiary training programmes including Business Management, Pharmacy, Accounting and English Language have met the AUN-QA standards.
Up to now, LHU has been the first private university in Vietnam with the most programs meeting AUN-QA standards (six programs). In addition, the Pharmacist training program of LHU is the second one in Vietnam (after the University of Medicine and Pharmacy at Ho Chi Minh City) to meet the AUN-QA standard.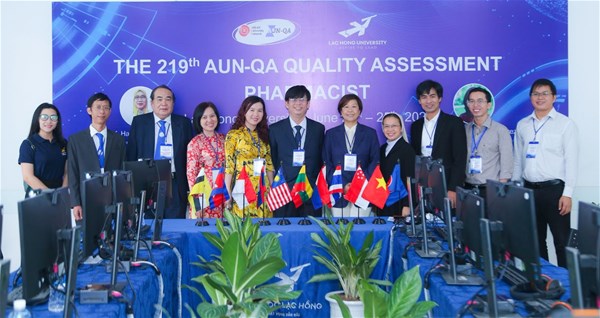 LHU Pharmacist training program is the second pharmacist training program in Vietnam to achieve the AUN-QA standard
The AUN-QA Program Assessment includes 11 standards. Each standard is assessed on a 7-point scale. Standards include Expected Learning Outcomes, Programme Specification, Programme Structure and Content, Teaching and Learning Approach, Student Assessment, Academic Staff Quality, Support Staff Quality, Student Quality, Facilities and Infrastructure, Quality Enhancement and Output.
According to the summary report of AUN-QA, LHU Pharmacy major is highly appreciated in standards: Teaching and Learning Approach, Student Assessment, Academic Staff Quality, Supporting activities - creating jobs for students, Facilities serving teaching, learning and scientific research.
According to Dr. Lam Thanh Hien - Rector of LHU, the four training programs of Pharmacy, English Language, Accounting, and Business Administration recognized with AUN-QA standards is really a proud result of the University in the field of quality assurance. With a total of six programs satisfying the AUN-QA standards, the University has gradually been implementing the strategy of building training programs that meet international quality accreditation standards.
Currently, LHU has been completing the applications for the assessment of two training programs: Information Engineering Technology and Electrical - Electronics Engineering Technology according to the ABET Accreditation Standards, four programs according to the AUN-QA Standards, and one program according to the quality accreditation standards of the Ministry of Education and Training. The University will register for external assessment with AUN-QA network in 2022 as expected.