On November 27, the 24th ceremony of Euréka Scientific Research Students Awards was held by the HCM City Youth Union in collaboration with Vietnam National University HCM City.
Euréka Prize is a prestigious and noble award held annually for Vietnamese students who have a passion for scientific research. The competition aims at strongly promoting scientific research among students.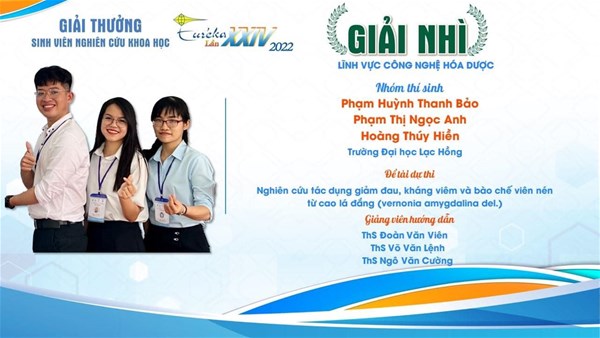 The group of Pham Huynh Thanh Bao, Pham Thi Ngoc Anh and Hoang Thuy Hien won the Second prize at the 24th Euréka Prize
At the ceremony, the students of LHU excellently won one Second Prize in Pharmaceutical Chemistry Technology and won the favorite poster Award. The Second prize was awarded to the student group of Pham Huynh Thanh Bao, Pham Thi Ngoc Anh and Hoang Thuy Hien (Faculty of Pharmacy) with the topic "Research on analgesic, anti-inflammatory effects and preparation of tablets from Vernonia amygdalina Del.". The research was instructed by MSc Doan Van Vien, MSc. Vo Van Lenh and MSc. Ngo Van Cuong. Also, the students of the Faculty of Mechatronics and Electronics (Automotive Engineering Technology) won the favorite poster Award.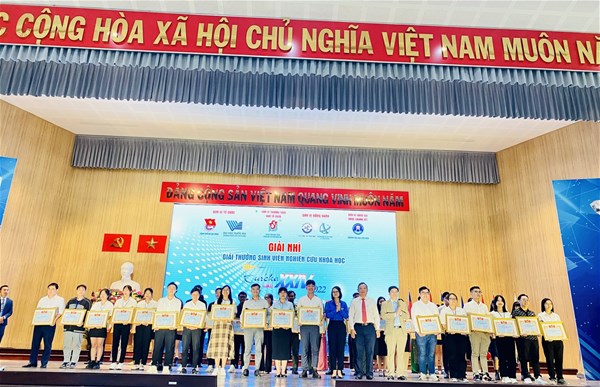 Winners of 2022 Eureka scientific research awards honored
This year, the event attracted more than 1,200 projects submitted by more than 3,700 candidates from 119 universities and colleges across provinces and cities nationwide. 160 projects were selected for the final round. At the event, 134 winners were awarded, including: 8 first, 15 second, 14 third and 97 consolation prizes.